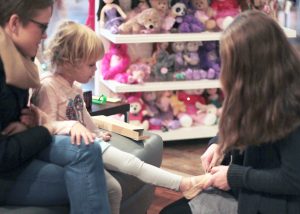 At Ellman's Dancewear,  we serve dancers of all ages and levels. We sell a variety of dance shoes and apparel for children, women and men. Not only will you find a great selection but an experienced and knowledgeable staff to assist you. All of our employees have extensive dance backgrounds and are proficient in fitting all styles of dance shoes and bodywear. Dance shoes are not sized the same as street shoes, therefore we strongly recommend that an individual be personally fit. Our staff will help ensure that a dancer is wearing the best shoe for their foot and level of dance.
Pointe Shoe Fittings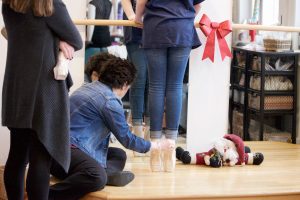 Pointe shoe fittings (especially for first time students) can take anywhere from 30 minutes to 2 hours. Please call the store to schedule your fitting. Dancers should wear convertible tights to their fitting and bring current shoes and padding, if applicable. For teachers that would like to bring a group of 3 or more students, we ask that you call at least 2 weeks prior to your requested fitting date, as we want to be sure that enough staff are available to work exclusively with your students. Pointe students who come with their instructor will receive a 10% discount on their purchase. 804-358-0655

Group Discount Program
Any dance group needing specialty items or large quantities of items can be serviced here at Ellman's. We do suggest that groups come in together for special fittings. We will measure and size all dancers at no extra charge. If you do not see what you need in our store we can always special order items from any of our catalogs. Please allow at least 2 – 4 weeks for group orders to arrive in store from the date the order is placed.
Our group discount program is based on the dollar amount spent:
$300.00 – $600.00: 10% off
$601.00 – $1000.00: 15% off
$1001.00 or more: 20% off
Group orders must be pre-paid using one method of payment. Tax exempt purchases require a certificate of exemption with tax id number. Tax exempt purchases are valid only if paid by the tax exempt organization. All group orders are a final sale.
Mail/Website Orders
Give us a call or email us.  All orders ship U.S.P.S.  We accept American Express, Discover, Mastercard and Visa. All in stock items will be shipped within 24 hours.
You can also shop online by clicking the "Shop" tab at the top of our home page.