Bloch has been solving dancers needs since 1932 and is now taking its design skills and technical expertise into today's new world to produce a face mask.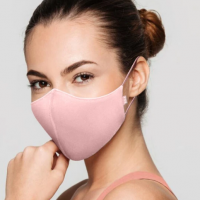 The machine washable masks are environmentally friendly and embedded with Nano Zinc Oxide particles in the fabric's fibres.  For our patterned masks the neck lanyard, means your mask is always at hand when you need it. The print adds a fun fashionable touch.
The soft stretch fabric with adjustable ear loops form a perfect breathe easy fit whatever your face shape.
Available in packs of 3 in solid colors and single masks in patterns for both adult and children.  View them with the links below
Store Hours: Mon – Fri 11:00 am – 6:00 pm
Sat: 11:00 am – 5:00 pm, Sun: 1:00 pm – 4:00 pm
Pointe shoe fittings require an appointment.
Please wear a face mask when visiting us.
804-358-0655 / ellmansinc@comcast.net
LET'S DANCE VIRGINIA!