PORTABLE BALLET BARRES
We are pleased to offer portable ballet barres for purchase! These made to order, PVC barres are constructed here in RVA and are prefect for your virtual dance classes.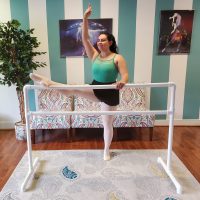 We take the time to: cut the piping into appropriate dimensions, sand off all exposed ink and writing, cement glue all of the fittings and thoroughly clean the final product.
The barre is 5′ long by 3.5′ high. Disassembles into 3 pieces for easy transport. Shipping is unavailable for this item.
We are happy to announce that we are offering personal shopping visits by appointment for the following days/times:
Week of May 18th: Mon, Tues, Thurs, Fri: 11 – 4
Week of May 25: Tues, Wed, Thurs, Fri: 11-4
CLOSED Memorial Day
Please call 804-358-0655 or email ellmansinc@comcast.net with your name and phone# to schedule yours today!