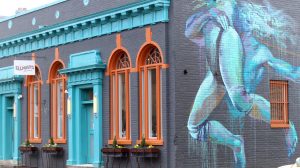 In 2016, Rosemary Liberto purchased Ellman's Dancewear after decades as its store manager, soon moving the business to 19 S Belmont In Cartyown. The move to a 6000 square foot space allowed Ellman's to expand its dancewear inventory in size and scope, becoming a regional source for dancers of all ages, levels, and styles, from toddler to senior, beginner to pro, ballet to ballroom.  In 2021, the decision was made to move yet again, to the near West End in Henrico County. Located in the Beverly Hills Shopping Center, at the intersection of Parham Road and Patterson Avenue, Ellman's Dance Boutique will occupy two of the retail spaces located next to the True Value Hardware store. This new location offers customers 100+ parking spaces and easy access from I-64, I-95, Route 288, and the Huguenot and Willey Bridges.
Did you know Ellman's originated as a general shoe store? John and Ida Ellman opened the store in 1948 in the heart of Carytown, evolving the business over the years from customer requests to include dance shoes and apparel, and English riding and Western footwear and apparel.
It was in 1980 than John and Ida retired, selling the eclectic business to longtime customer and friend, Jo Anne Wade Draucker, an actress, dancer, and owner of Premiere Costumes. Jo Anne quickly recognized that dancewear was Ellman's strongest and fastest growing market. She expanded the dance merchandise and moved both businesses to a singular location at 3339 West Cary Street. This is where a high-school aged Rosemary began working her first job!
Though Ellman's has seen many changes since 1948, one thing has always stayed the same—our customers come first.
Now let's dance!